Prediction: The Sixth "P" of Marketing

What if you could predict who your next best customer will be?
"If we have data, let's look at data. If all we have are opinions, let's go with mine." — Jim Barksdale, former Netscape CEO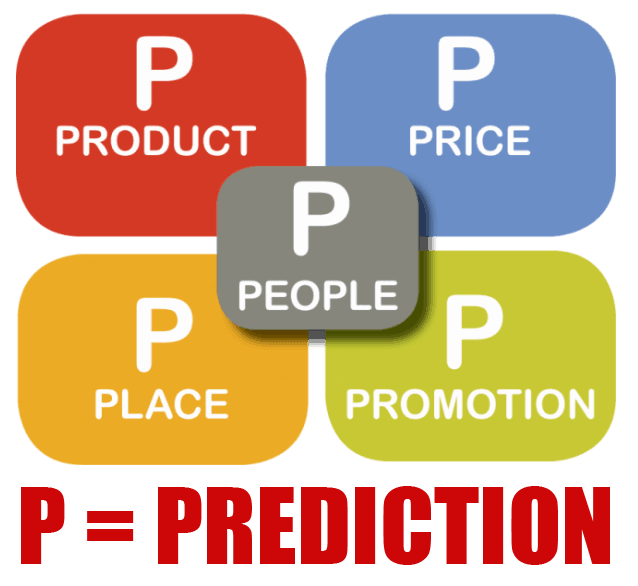 The evolution of marketing never ends and today, technology continues to drive innovation and efficiency in the marketing function. In fact, for the first time, I believe technology is now capable of empowering savvy marketers to add a sixth "P" to the marketing mix. What is the sixth "P" of marketing? Prediction!
What if you could predict who your next best customer will be? Better yet, what if you could predict what product or service that customer is interested in? This is not only possible using the tools available to the modern marketer, but I purport that integrating prediction into your marketing toolset will make the difference between surviving and thriving in today's digital world.
Casting Nets vs Shooting Lasers
Using the right tool makes any job easier and marketing is no different. Most modern marketers have incorporated digital marketing into their toolset. And most consumers now engage with digital platforms as part of their buyer's journey.
81% of customers research online before setting foot in a store or calling.
Websites were an early digital marketing tool designed to cast a net that might pull in customers. Marketers recognized early-on that customers did some form of research online before setting foot in stores. Thus, websites evolved from being corporate brochureware to more interactive experiences. Today, deep content and stronger calls to action make the modern website a richer digital experience than ever before. And many companies now enable online purchasing to occur without ever setting foot in a physical store.
But that's no longer enough.
Why cast a net when you can shoot a laser that targets precisely who is interested in your product or service?
Google calls this the ZMOT or the Zero Moment of Truth. The ZMOT is the decision-making moment when we as consumers decide what to buy. We may be influenced by any number of marketing deliverables:
Website content that provides a deep understanding
Ratings and reviews of other customers
Social engagement and exposure
Sales enablement in the micro-moment
Brand awareness and discoverability
As more and more marketers hone their skills in all the tools of our digital age, the unfortunate reality is that cycle duration has become shorter and shorter.
"71% of consumers made a purchase within a week of awareness or desire."
What does this mean for the modern marketer? Today, you had better be shooting with lasers to win your next customer instead of casting an ever-less-effective net.
The New Marketing Model: Predict Your Next Customer Using Data
Prospects fall into one of three distinct groups:
Prospects who are unaware of your company or product;
Prospects who recognize your brand;
Existing customers who are looking for a solution.
A Marketing Automation Platform (MAP) is a great tool to use data to engage with each of these three groups and more precisely predict what they are interested in — and who they are. This is the essence of leveraging data to Predict your next customer.
If you haven't yet selected a MAP, you may be interested in the process I used when evaluating which Marketing Automation Platform was right for my company. Selecting the right MAP partner is an important step, so don't rush through the journey.
How A MAP Enables Prediction
At its most basic level, a Marketing Automation Platform taps into the data of customers and prospects who interact with your sales and marketing channels. By helping you know who is evaluating your online information, you can use that data to stay in front of that prospect throughout their buyer's journey — automatically.
"Remember, 81% of customers research onlinebefore setting foot in a store or calling."
Even more importantly, since 71% of consumers made a purchase within a week of awareness or desire, your Marketing Automation Platform is one of the only tools that enables you to stay in front of that prospect until they have triggered their Zero Moment of Truth (ZMOT).
"Staying in front of a high-intent prospect is critical to winning new relationships and generating more sales."
Data Is The Fuel That Powers Your MAP
Are you leveraging your first-party data? First-party data is data you have collected about your audience — often your existing customers. It comes from a variety of sources:
Behavioral data: actions and interests users demonstrate on your website
CRM data: information users share with you, or from past purchases of your products
Social data: data pulled from people who interact with your brand on social media
Cross-platform data: information gleaned from mobile web or apps
Harnessing your first-party data and making it available to your Marketing Automation Platform is crucial to your success with the sixth "P" of marketing: Prediction. It often contains your most valuable insights to your existing customers and users. Why?
First-party data contains information about which of your products your customer is interested in. How do you know? Because they clicked on it!
First-party data tells you who the prospect is as well as their online and offline contact information.
First-party data can tell you how engaged the prospect is in your solution, by scoring their interactions in real time.
Three Mistakes To Avoid With Marketing Automation
The first mistake to avoid when putting your Marketing Automation Platform to use is to limit your communication to digital channels. The modern Marketing Automation Platform is a cross-channel personalization tool:
Personalize your website to focus on the solution that is of most interest to your prospect based on their first-party data
Personalize your email to stay in front of your prospect with a cadence of digital outreach that can reach them virtually instantly
Reach out in the offline world to stay in front of prospects via direct mail where they live or work — or both!
Call your prospect and engage with them via a meaningful conversation that is fully-informed about the product or service they are interested in.
In financial services, I mapped a typical buyer's journey that identified how we would use Marketing Automation to engage with prospects across all four channels: website, email, direct mail, and call center.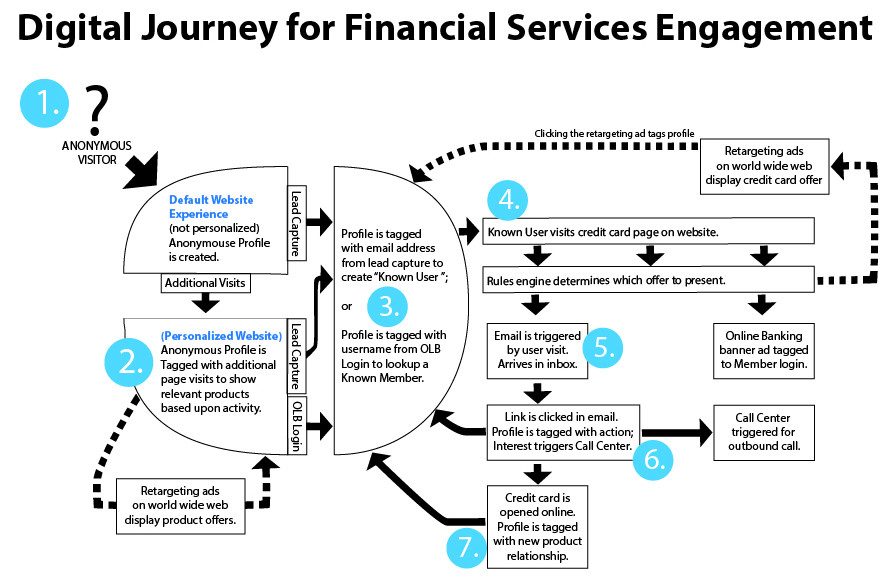 Another mistake marketers must avoid is not to stop at the point of purchase. Congratulations! You've worked hard to identify your prospect, stay in front of them throughout their buyer's journey and were successful in being the winner of their ZMOT. Don't stop there!
The modern marketing funnel doesn't stop at the point of purchase, but rather it expands each new relationship outward to form the "trumpet" of retention, expansion, and advocacy. Use the first-party data within your Marketing Automation Platform to ensure your buyer adopts your solution completely. Onboarding new relationships serve not only to counteract buyer's remorse and apathy but also to move them further along the loyalty journey.
Use first-party data to identify the next likely product or service your customer may be interested in
Use "big data" analysis to identify "look-alike" audiences to pull in more prospects who resemble your best customers
Use propensity modeling to expand their relationship with the best products and services for their demographic, firmographic, or life stage they fall within.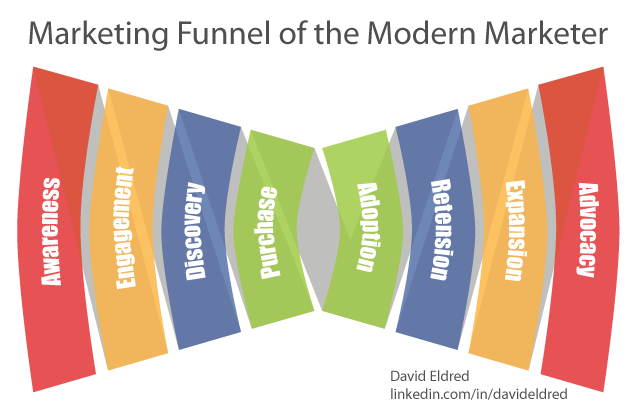 The third mistake to avoid can be the biggest one of all: does your organization make it difficult for your marketing team to access and use the first-party data you already have? Organizations that put barriers in front of their marketing team's access to data make the job of the modern marketer that much more difficult.
The good news is that technology continues to enable easier and easier access to data for marketing teams. A typical MarTech stack for the modern marketing team may include all the following tools:
CRM — (Customer Relationship Management) to allow enterprise-wide input of key customer and prospect interactions and communications;
CMS — (Content Management System) to allow the marketing team the ability to control website environment without tech-team involvement;
MAP — (Marketing Automation Platform) to automate the marketing communications function at scale and in real time;
CDP — (Customer Data Platform) enables easy access to first-party data by non-technical members of the marketing team;
Analytics — serve as the linchpin of your MarTech stack. Because if you can't measure it, you won't know what is effective.
Prediction Is Possible
It is an exciting time to be a marketer! Never before have so many tools come together to make the life of the modern marketer easier. Now go have fun using your laser to predict your next customer and generate more efficient selling for your organization.
About the author:  David Eldred is the President and Chief Brand Technologist of Sine Cera Marketing, a boutique marketing consulting practice based in Sherwood, Oregon. Sine Cera specializes in helping businesses create and maximize their digital presence – as well as offering a full range of marketing consulting services, including social media marketing, social selling, search engine marketing, website design, and mobile marketing solutions.