The Hidden Danger of Digital Marketing

Are you investing in your company's future or buying a short-term transaction?
"The single greatest threat facing marketing at the moment is short-termism: the dominant focus on this period's or quarter's sales." – Peter Field
Attribution has always been a difficult challenge for marketers to answer to the satisfaction of CFOs. After all, it's nearly impossible to track the effect of traditional advertising on television, radio, billboards and public relations on conversion rates and sales volume.
On the surface, digital marketing does not seem to suffer from the attribution conundrum. After all, every click and visit is eminently more trackable than traditional media. As a result, companies large and small have been flocking to digital marketing. As the chart below shows, the compound annual growth rate (CAGR) of digital advertising has exceeded 19.5% between 2002 and 2016.
Even more eye-popping is that just one year after mobile search volume eclipsed desktop search, mobile advertising spend eclipsed non-mobile advertising in 2016 with CAGR of 98%. Clearly, the siren call of digital marketing is appealing to more and more marketers and their organizations.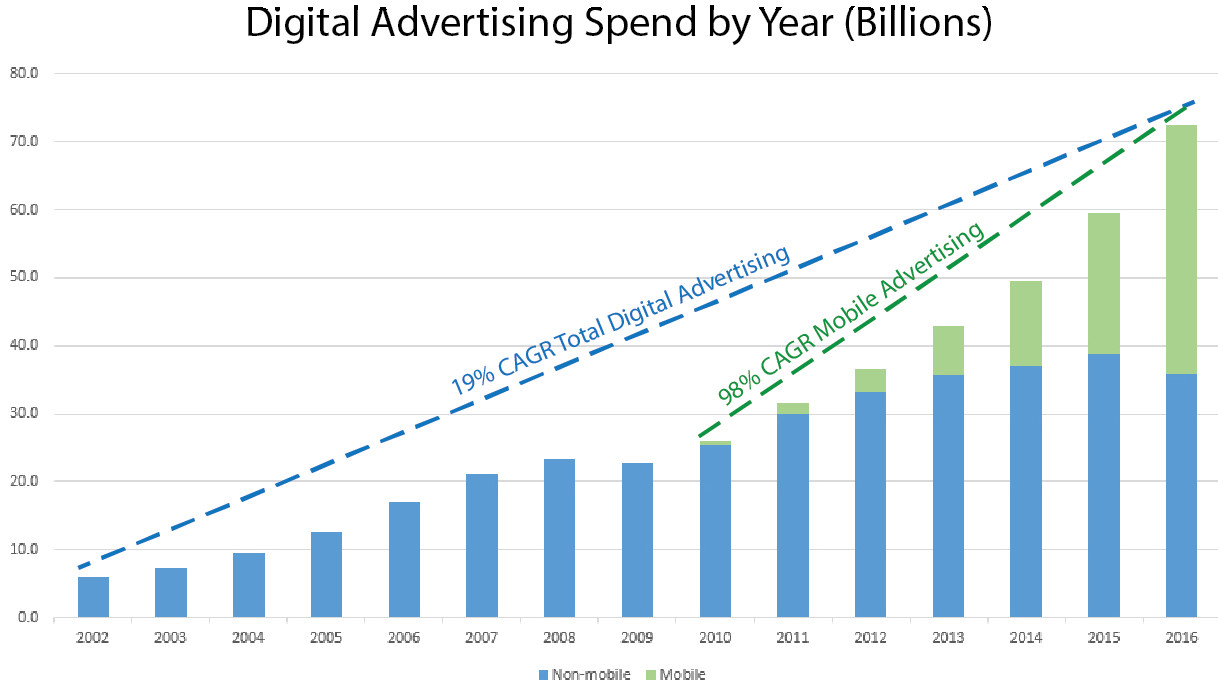 But is Digital Marketing Killing Your Brand?
If you're like many marketers, you've ramped up your digital marketing initiatives by leaps and bounds. Your company may now be engaged in all the following digital marketing activities:
Website redesign
Search engine optimization
Pay per click advertising
Programmatic display ads
Email marketing
Blogging and content marketing
Social media marketing
In-app mobile advertising
Geo-fenced smartphone targeting
Marketing automation platform
And more!
To keep up with all your digital marketing initiatives, you may have already changed the staffing structure of your in-house marketing team, and outsourced certain marketing functions to third-party providers. Indeed, it seems clear that the role of the marketing generalist is nearing extinction, with specialization becoming ever more granular. Prior to 2007, the role of social media marketing specialist didn't even exist. Today, certification in marketing automation platforms like Marketo, Hubspot, Adobe Marketing Cloud and more are hot commodity skills for which to acquire and hire.
And your CFO is likely much more happy with the reporting coming from your digital marketing initiatives. Indeed, reporting is now a functional expectation of the marketing role with executive summaries being fed to senior managers detailing the number of clicks, visits, fans and user-generated content your campaigns have generated. Cost of acquisition (COA) is now a metric that is not only used but asked for by management of companies who have become enamored by the power of digital marketing.
And therein lies the danger. Short-termism: a phrase coined by Peter Field, "the Godfather of effectiveness."
The lure of immediacy can become insidious for marketers and the companies for whom they work. Tactics begin to become more important than strategies. And due to the fantastic reporting available within most digital marketing tools, the noise from all the tactics may drown out the fact that a coherent strategy may not be driving the engagement initiatives. Companies may not even realize how much they are killing their brands – before it's too late.
"Strategy without tactics is the slowest road to victory. Tactics without strategy is the noise before defeat." – Sun Tsu
Consider the shift toward digital and the effect upon marketing budgets. Growth of 19.5% per year over 14 years comes at a hidden cost: simply, that traditional media is shrinking as a percentage of the budget and in some cases being eliminated altogether. Why would that be a bad thing? Because in general, traditional media is a brand-advertising strategy, whereas digital media can easily become a transaction/conversion-oriented tactic.
Marketing budgets are shifting more and more toward digital, as the fuel to feed the clicks and tools for the digital marketing spend. To gauge whether your organization is veering toward short-termism, ask yourself these three questions:
Am I being asked how much PPC spend it will take to generate a certain sales volume?
Am I being asked for reporting on my digital ad buy on a weekly basis? Daily?
Is my marketing budget at risk if I cannot attribute sales volume to each initiative?
Each of the above is signs of short-term thinking. Short-cutting the TOFU in order to increase your BOFU opportunities must be carefully considered, as companies cannot survive on BOFU alone.
TOFU = Top of Funnel
BOFU = Bottom of Funnel
The Marketing Mix
Building a marketing budget that balances short-term opportunities with long-term brand building initiatives is a critical strategic investment that organizations must retain. In decades past, marketers did not have to fight the digital short-termism that is creeping into boardrooms, c-suites and senior management in today's digital marketing age. That has changed now that empirical clicks and data can disrupt the fuzzy investments of brand building; nevertheless, brand-building remains vital to organizational long-term success.
So what is the "right" marketing mix for most organizations?
Brand-building needs to remain the dominant investment in the modern organization. Brand-building is an investment in the future of your company. It will always be difficult to qualify because attribution is difficult to quantify. Your CFO may become increasingly resistant to such arguments, but it is important to continue to battle for the budget necessary to make the brand-building investments that are right for your company's healthy future.
As much as everyone would like, digital marketing is not the silver bullet that makes all other marketing investments futile. Digital marketing is one element of the marketing mix. It grows in weight each year, as more and more consumers and businesses are engaged with online media. But it cannot yet displace traditional media channels of television, radio, print, billboard and public relations.
To prove the theory of integrated marketing consider the following:
Direct mail may generate a 1% response rate
But couple it with targeted email and response rates may increase +1% to +2%
And by threading in outbound phone contact, response rates may increase +2% to +3% or more.
Integrated marketing remains as true a multiplier as ever and the Rule of Seven is an adage that no marketer should forget. Only, in today's world, where people have attention spans less than the average goldfish, exposure to advertising often means that more than seven marketing touches are required:
The 1st time people look at an ad, they don't see it.
The 2nd time, they don't notice it.
The 3rd time, they are aware that it is there.
The 4th time, they have a fleeting sense that they've seen it before.
The 5th time, they actually read the ad.
The 6th time, they thumb their nose at it.
The 7th time, they get a little irritated with it.
The 8th time, they think, "Here's that confounded ad again."
The 9th time, they wonder if they're missing out on something.
The 10th time, they ask their friends or neighbors if they've tried it.
The 11th time, they wonder how the company is paying for all these ads.
The 12th time, they start to think that it must be a good product.
The 13th time, they start to feel the product has value.
The 14th time, they start to feel like they've wanted a product like this for a long time.
The 15th time, they start to yearn for it because they can't afford to buy it.
The 16th time, they accept the fact that they will buy it sometime in the future.
The 17th time, they make a commitment to buy the product.
The 18th time, they curse their poverty because they can't buy this terrific product.
The 19th time, they count their money very carefully.
The 20th time prospects see the ad, they buy what it is offering.
"Advertising sells – PR tells – Sales takes the money."
The marketing budget funds the mix of the appropriate marketing investments to power both long-term brand building and short-term sales activation. Across industries, the right mix of long-term brand marketing versus short-term activation marketing is a ratio of 60%/40%, according to the 2017 report "Media In Focus: Marketing Effectiveness In The Digital Era."
Peter Drucker, noted economist and business author wrote in the book "Post-Capitalist Society," "Long-term results cannot be achieved by piling short-term results on short-term results." At the time, Drucker was commenting upon the quarter-by-quarter results demanded by shareholders of publicly-traded companies; which remains even truer today, as the digital marketing era matures and achieves widespread adoption.
Building competency in the digital marketing tools of our age is a mandate no marketer should ignore. But equally true is that marketers and executives should not lose sight of the long-term brand building that invests in the future health of their companies.
About the author:  David Eldred is the President and Chief Brand Technologist of Sine Cera Marketing, a boutique marketing consulting practice based in Sherwood, Oregon. Sine Cera specializes in helping businesses create and maximize their digital presence – as well as offering a full range of marketing consulting services, including social media marketing, social selling, search engine marketing, website design, and mobile marketing solutions.