Marketing + Tech: Our Journey Toward Marketing Automation

"The world is now awash in data and we can see consumers in a lot clearer ways." – Max Levchin, PayPal co-founder
Marketing Automation seems to have reached a tipping point: more people are talking about it, vendors are positioning themselves to compete in the space (whether it's a core competency or not), and internal teams are asking themselves if they should make an investment in Marketing Automation systems.
I'd like to share my insights regarding my own organization's experience as we wrestled with the evaluation and selection of a Marketing Automation Platform. Before I get started, I'd like to share a relevant story that I call "The Parable of the Ballooning Marketer."
The Parable of the Ballooning Marketer:
Once upon a time, there was a man who decided to cross another experience off his bucket list and go on a hot air balloon ride. He traveled to Bend, Oregon and rented a hot air balloon. After a quick orientation, up he sailed! It was everything he had hoped: so quiet and serene! He could see for miles and miles and the views were spectacular.
Being inexperienced, however, he floated into a cloud bank and quickly became disoriented and lost. Pondering his situation, he arrived at a plan: he would let some of the air out of the balloon, float down below the clouds, and see where he was.
Executing his plan, he floated gently down and popped out the bottom of the cloud. Below him on the ground was another man who was busy flipping burgers on a backyard grill.
So he called out to the man. "Hello, friend! Can you please help me and tell me where I am?" he said.
The man looked up and replied, "Well, you're in a hot air balloon, floating about 50 feet above my backyard."
The man in the balloon sighed. "Thanks, but…" he said. "Wait. You must work in Information Technology. Am I right?"
The man at the grill looked surprised. "Well, yes, I do! How did you know?" he said.
"It was easy," the man in the balloon said. "You gave me technically-accurate information that was absolutely no use to me!"
The man on the ground smiled. "I see," he said. "Well, then I bet you work in Marketing. Am I right?"
"Well, yes, I do! How did you know?"
"It was easy: you came to me full of hot air, asked for my help, and when you didn't like the answer, somehow you made it all my fault."
Marketing and Technology Should Not Be Siloed Functions
Dysfunctional relationships between Marketing and Technology teams are unfortunately all-too-common in many organizations, as the parable above illustrates with tongue firmly planted in cheek. In today's rapidly advancing Mar-Tech world, where data is the new creative, Marketing and Technology teams need to work together to harness the power that both skill sets bring to their organizations.
"Data is the new creative." – David Eldred
The good news is that Marketing and Technology teams can indeed work together to achieve success. Having recently completed such a partnership, I'd like to share some of my thoughts regarding how my organization approached this challenge to select a Marketing Automation Platform.
Marketing Automation: Has the Time Arrived (For You)?
For my team, the question of Marketing Automation entered our discussions when we began scoping a new website redesign project. We wanted our new website not only to be a dynamic and engaging experience but also to help us present intelligent, one-to-one offers that would be based upon each visitor's interaction with our content.
I have come to think of this as one aspect of "intent-based" marketing, when a consumer has a specific task or goal in mind and is seeking relevant information to make an informed decision. My thought was that if we could derive each visitor's intent based upon what they were clicking on our website, we could dynamically present information based on what they were interested in at that micro-moment. Further, should they leave and come back to our website, we wanted to remember what they were interested in during their last visit and use that as our starting point for their subsequent experiences; essentially, re-marketing to them on our own website.
Enter BlueConic: Our First MAP Vendor

BlueConic was a great first Marketing Automation vendor to review, because their core competency of dynamic website personalization spoke directly to our website redesign goal. I enjoyed how they approached mining website interactions to derive intent and allow marketing teams to use the data to segment their customers and prospects and build actionable profiles.
The 2017 Gartner report, "Magic Quadrant for Digital Marketing Hubs" describes BlueConic as follows:
"BlueConic is best-suited to marketers with a mobile or website-dominant customer journey and a rich trove of customer data, such as that found in retail, hospitality, financial services and subscription media sectors. The majority of BlueConic's customers are midmarket — thanks, in part, to competitive pricing — but it serves a notable share of large enterprises in the cited verticals as well. BlueConic is differentiated by its customer data platform (CDP) positioning, recognizing users whenever, wherever they interact with a brand's site or app. It delivers personalized content and product recommendations through machine learning, propensity modeling and continuous optimization, and synchronizing that information across other tools in the marketing ecosystem."
How Our Thinking Evolved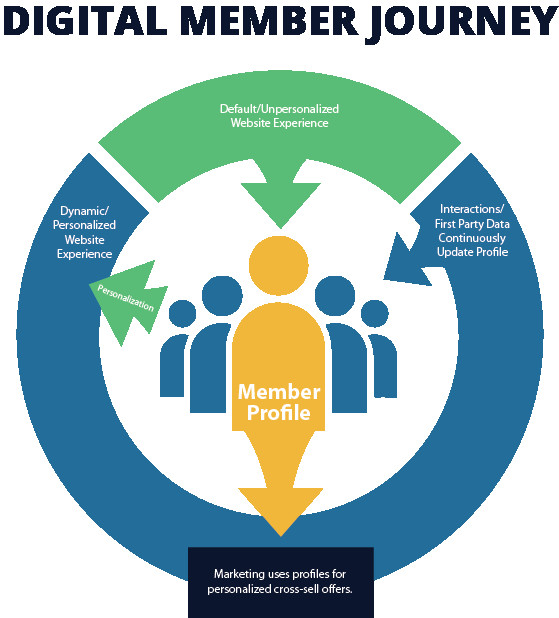 From the perspective of our website redesign goals, BlueConic seemed a perfect fit. We began to visualize how the data generated by BlueConic could create feedback loops as it added more and more interactions to the centralized digital profile of each unique website visitor. As we envisioned using this data, we became more and more excited about the potential to present the right offer at the right time to the right person. It seemed that Micro Moments could now become Micro Marketing and the holy grail of 1:1 personalized interactions at scale.
We also knew from experience that a multi-channel approach to nurturing our prospects and leads was far more effective than any singular tactic could achieve on its own. For example, while direct mail might achieve a 1% – 2% response rate by itself, if we couple it with a high-touch outbound phone call, response rate efficacy could triple or quadruple or more. As we considered the data that could be collected by the Marketing Automation system we were considering, we began to think about how this data could be used beyond the website, into other digital channels as well as offline channels.
To reflect this shift toward multi-channel automation, we updated our vision for our Digital Member Journey by adding other online and offline channels to our marketing mix. This evolution transformed our approach to the project from that of a website redesign to a more robust and holistic customer and member experience project.
Go Broad To Go Narrow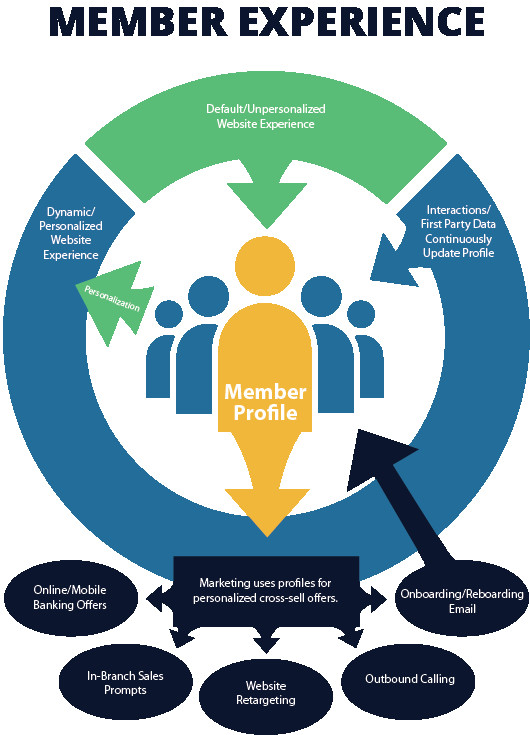 To expand the scope of the Marketing Automation project, we applied a tactic from Design Thinking: "Go broad to go narrow." Essentially, we applied the following parameters as we dreamed big:
Money is no object
Current tools are not limiting factors
Integration challenges are not relevant
Think three to five years ahead
With these parameters as our foundation, we quickly identified all of the ways that we could use data, automation and integration to enhance the customer and member experience and improve the effectiveness of our marketing and sales teams. Our Technology Team contributed to this brainstorming equally, thinking beyond marketing and sales to also include delivery channels and optimization of applications and workflow. This collaborative process helped create buy-in and ownership among cross-functional teams as we visualized how data and automation could become the "dark matter" that would connect marketing, sales, technology, operations and management to unlock the explosive potential of our organization.
"Data is the dark matter that powers intent-based marketing." – David Eldred
Our final list of potential uses for Marketing Automation was longer and broader than we could implement in the near-term, but having the full vision for how we might wish to use data and automation provided a long-term view for where this project could lead. With the full list of potential uses, we categorized them as follows:
PHASE ONE GOALS – Comprised of current strategies and tactics already in use which could be automated through the use of a MAP.
PHASE TWO GOALS – Comprised of identified priority strategies and tactics that would require integration with third-party vendors or deeper Technology Team dependencies to implement.
PHASE THREE GOALS – Comprised of integrations with third-party vendor relationships with dependencies not yet enabled by the vendor.
Inviting Vendors to the Table
With our organization's short- and long-term marketing automation goals in mind, we were ready to reach out to targeted MAP vendors to discuss their solution. Since we already had a solid understanding of BlueConic's capabilities, our goal was to invite three additional vendors to the mix, each of whom was considered to have capabilities to deliver on our Phase One Goals, and potentially to drive longer-term solutions through Phase Three.
I am pleased that we settled upon the vendors we did, as they represented a full spectrum of choices from middle-market through enterprise solutions. Our research focused on the following organizations:
Each of the four Marketing Automation Platform providers is represented within the 2017 Gartner report, "Magic Quadrant for Digital Marketing Hubs". You can read their summary profiles, strengths and challenges within the linked report, as well as those of other companies which compete in this space.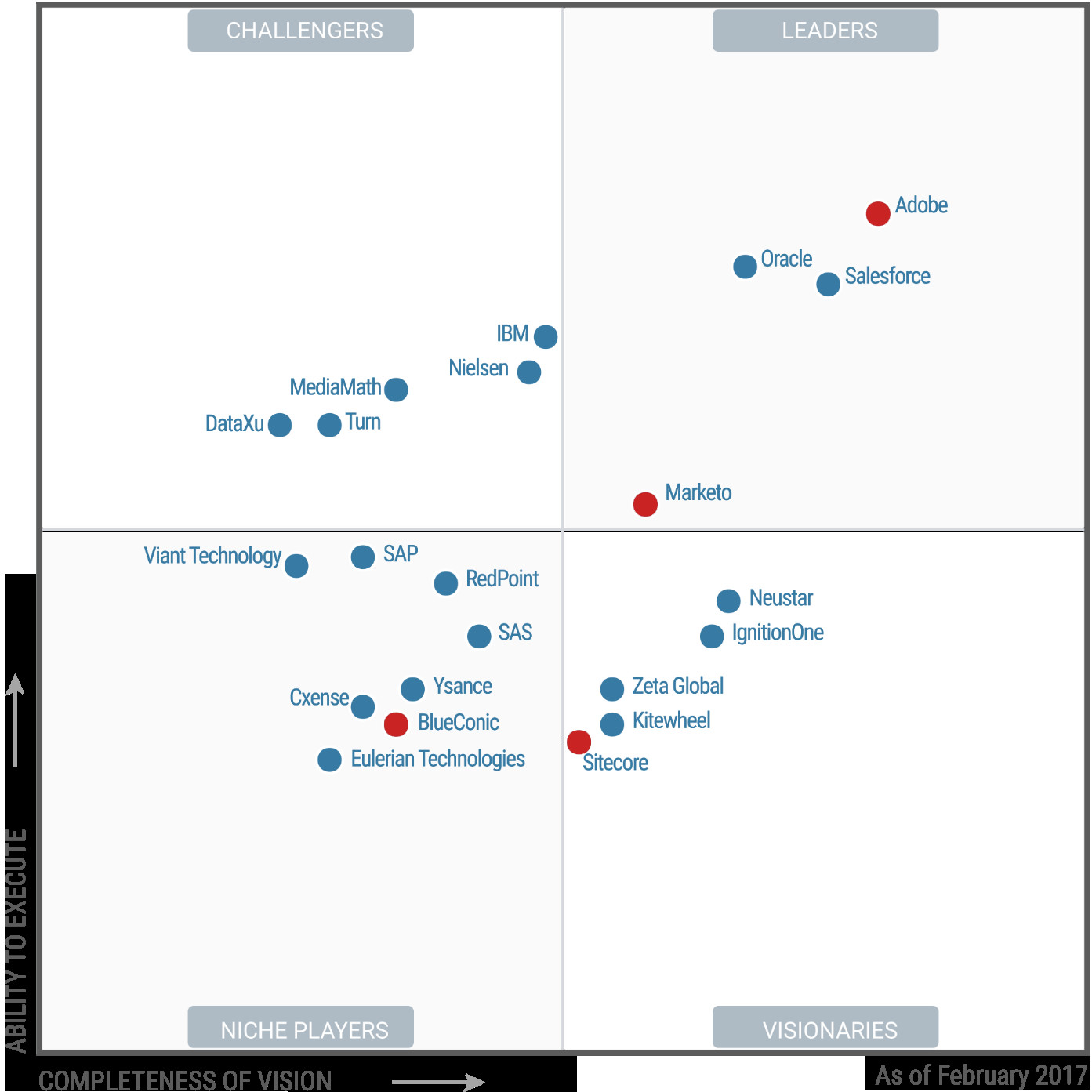 Of the companies we selected to present, two fell within the Gartner "Leaders" quadrant, one within the "Visionaries" quadrant and one within the "Niche Players" quadrant. This gave us a great opportunity to compare and contrast the relative merits of each to deliver on our goals.
Suggestions for Others Embarking upon Marketing Automation
The number of vendors which consider themselves Marketing Automation providers continues to proliferate. From my perspective, many fall within the realm of "catch up" by attempting to extend their core competency into Marketing Automation. Many of these have far to go before they venture outside the "Niche Players" or "Visionaries" categories of the Gartner quadrants.
From my experience, and given the Phase One goals we adhered to throughout the selection process, I believe that any of the vendors we selected for our review could have delivered upon our goals. Therefore, internal priorities, exigencies and budgetary limitations make the selection process unique to each company that embarks upon this quest. There is no "correct" answer to which MAP provider is best for everyone.
However, I do believe there are valuable insights you may glean from my experience, and I offer the following for your consideration as you pursue evaluation of Marketing Automation is right for your organization at this point in time:
Have clear near-term goals firmly in mind: This one element of advice is number one for a reason, as I believe it above all else helped us remain focused on making the right selection for our team. Each vendor, with the exception of Adobe, has a legacy core competency around which they are attempting to extend Marketing Automation functionality. This can muddy the water if you let it, as the vendor will often attempt to expand the conversation to cover those areas where their solution shines best but which may not have direct application to your near-term goals. In our case, we kept repeating our near-term goals, and it helped us discern between our "wishful future" and our near-term reality.
Interview peers who have implemented each system: This is good advice for any vendor contract of size, but doubly so within the Marketing Automation industry. You will uncover pain-points that lead to deeper understanding, considerations you may have missed, and negotiation tactics that will prove invaluable. In our case, we found that some peers which had implemented a MAP had done so without a clear use-case in mind, believing perhaps in the "build it and they will come" approach. In many cases, this resulted in over-buying and under-utilization.
Consider the total cost of ownership for each system: This encompasses not only the purchase and licensing cost of the MAP you select, but also the following additional factors, to name a few:
Cost of implementation: Many MAP vendors tout the ease with which internal teams may make use of their tool. Do not discount the cost of standing up the system and getting up and running with actionable systems in place.
Cost of third-party support: After implementation, do you have the support you need to fully utilize the system you purchased? Based on a survey by AutoPilotHQ, "44% of marketers are not fully satisfied with their marketing automation systems, the top 3 reasons being that the software takes too long to implement, is difficult to learn and is expensive." You will need third-party support in order to get the most out of the system you purchase, so factor that into your decision.
Cost of internal bandwidth and expertise: Even though the promise of Marketing Automation is to reduce repetitive tasks and free up internal marketing teams for more value-added tasks, the fact remains that to maximize your investment you will need internal buy-in, ownership and resources. Content generation is key and that can't be automated. Will you need to hire additional staff? Will they need pre-existing expertise, or will they require extensive training? What is the cost of attrition and turnover?
Lastly, don't forget to negotiate: Remember, all of these companies operate in a highly competitive space and they know you have many, many options from which to make your final selection. I never advocate jerking a vendor around; after all, your Marketing Automation vendor will be a key strategic partner and you want them to be happy with having you as their client. In our case, I truly would have been happy with any of the companies that made our finalist round (and yes, there was more than one). The willingness to walk away from a deal is a powerful motivation tool you have at your disposal. Use it wisely.
So Which MAP Did We Choose?
Thanks for reading this far! We chose Marketo as our Marketing Automation Platform and I am thrilled with the prospect of what lies ahead. If you are about to embark upon this journey, too, I envy you what is within your future: it was a lot of fun to contemplate how we may use our MAP to leverage our organizational effectiveness and I wish you all the best in your deliberations.
About the author: David Eldred is Marketing Manager for Rivermark Community Credit Union, a tech-forward credit union based in Beaverton, Oregon.